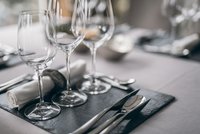 Simply delicious!
Our goulash soup
Whether it's for a family meal, guests, or your next party, this classic, hearty soup is perfect for all occasions!
Goulash soup
Ingredients for 4 people
Meat:
200g beef (shoulder) cut into small cubes
Vegetables:
100g onions cut into fine cubes
150g potatoes cut into fine cubes
Other ingredients:
30ml oil
1 tsp. tomato puree
100ml red wine
1½l meat broth or soup stock
2 dessert spoons flour
Seasoning:
10g paprika, sweet
1 tsp. white wine vinegar
½ bay leaf
Goulash seasoning:
1 tsp. garlic, lemon peel, caraway, and marjoram mixed, freshly ground pepper, salt
Preparation (cooking time: 90 minutes)
Fry the onions in hot oil until golden yellow.
Add the tomato puree and briefly continue to fry.
Then add the paprika. Deglaze with the white wine vinegar and the red wine.
As soon as the red wine has completely boiled down, add the meat and season with salt and pepper.
Cover and leave the resulting fluids to boil down until a layer of fat appears.
Sprinkle flour over the meat, stir in, pour over the meat broth, and leave the soup to simmer.
After around ¾ of the cooking time, add the bay leaf and the potatoes, then leave the soup to finish cooking.
Shortly before removing the soup from the heat, add the finely chopped goulash seasoning to taste.
Want even more exquisite cuisine? Then visit us at our hotel in Tyrol!