Holiday at our hiking hotel in Pitztal
Spectacular tours and leisurely hikes
Pitztal without hiking tours is like Kaunergrat Nature Park without ibexes: unimaginable. The hiking expert par excellence is a senior member of our team, Sepp. The passionate summiteer and mountain connoisseur provides you with plenty of tips for your journey through the entirety of the Tyrolean Alps. Experience the fascinating balance between natural forces, dreamlike landscapes, and extremes.
Going on an impressive hike to a cosy alpine hut or do you want to test your stamina on challenging summit tours? There is something for every hiker's taste on the more than 380 kilometres of hiking trails (no matter whether you hike alone, as a couple, with your children, or with your best friends) and the mountain cableways make the ascent easier for you on various tours. When preparing and planning, Sepp loves to tell you exciting stories, anecdotes, and insider tips from his many years of mountaineering experience. When he was in top athletic condition, he climbed no less than 60,000 metres of altitude per year!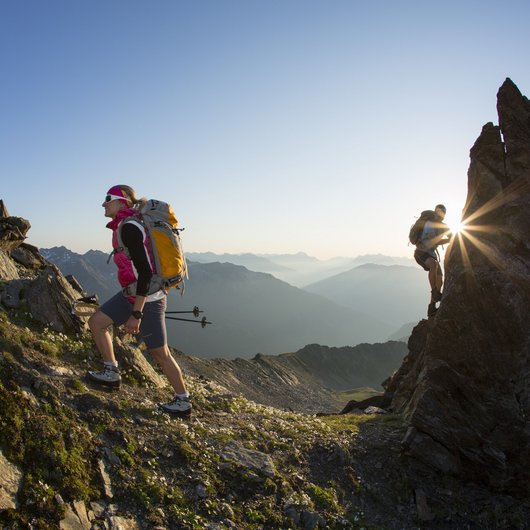 The Pitztal hiking trails – Opa Sepp
While hiking over wide gravel paths and narrow mountain goat trails, I can restore my energy reserves.
Sepp introduces some of his favourite tours to you here:
Family hike to Gletscherstube hut
1 hour walk | 160 metres' difference in altitude
This hike is ideally suited for families with prams or pushchairs. From Mittelberg, a flat, wide 30-minute hiking trail leads to Gletscherstube hut at 1,891 metres above sea level. Here, you and your little ones can fortify yourselves and enjoy a magnificent panorama.
Hike to Braunschweiger hut
5-hour walk | 1,050 metres' difference in altitude
Braunschweiger hut is located at 2,759 metres and offers a unique panoramic view of the surrounding mountains and valleys. After about an hour's walk on a relatively flat gravel path, there is a fairly steep climb of about two hours that leads past the Pitze waterfall. After a total of three hours, you will reach Braunschweiger hut with a stunning view of Wildspitze.
Summit tour on Mittagskogel
3-hour walk | 300 metres' difference in altitude
How about a three-thousand-metre climb? Go to Mittagskogel! The Gletscherexpress takes you comfortably up to a lofty 2,840 metres. From here, a path leads you through stony terrain to the summit of Mittagskogel (3,159 metres). Once at the top, you can enjoy a fantastic view of Pitztal, the surrounding mountains, and the glacier. We bet you'll feel like a climbing ibex on the ascent!
Sepp's tip: On the way back, stop for refreshments at the Kristall glacier restaurant at the top station of the Gletscherexpress cable car!
Not for the faint-hearted: up to Wildspitze
7 hours | 992 metres' difference in altitude
At 3,768 metres, Wildspitze really seems to be the roof of Tyrol, the highest mountain in the region. Starting at the Breslauer hut (2,844 metres), the ascent takes about 3.5 hours over stony, rocky, and exposed terrain with secured sections. First, you'll climb from the hut in several curves and over secured scree fields to Mitterkarjoch at 3,470 metres. Then you'll walk across glacier basins and more scree fields to the summit cross. Surefootedness, no fear of heights, and alpine experience are absolutely necessary for this summit tour!
Fancy some more mountain adventures from Sepp's collection?
Of course, hiking expert and summiteer Sepp has many more hikes and tours up his sleeve. Just ask him during your stay at Alpine Resort Sportalm for more tours from his collection! He would be happy to provide you with insider tips and show you the way to the most beautiful spots in Kaunergrat Nature Park.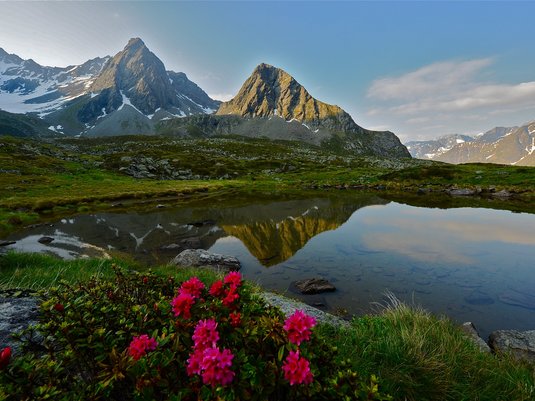 The Pitztal Sommer Card is the perfect companion for your mountain adventures during the summer season. This advantage card gives you free access to the main attractions of Pitztal, such as museums, climbing gyms, several mountain cableways (Rifflseebahn, Hochzeiter Bergbahnen, Imster Bergbahnen, etc.), Tiroler Steinbockzentrum (Tyrolean Ibex Centre), or XP Abenteuerpark Jerzens. You'll receive your card right when checking in at Alpine Resort Sportalm.