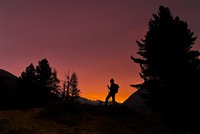 Radiantly beautiful and wonderfully clear
Autumn is perfect for hiking!
Experience the joy of long, gorgeous autumn hikes. We'll let you know the best trails to explore this season.
Autumn stands out among the seasons with its vibrant colours, unparalleled scenic vistas, and mild temperatures, making it the ultimate season for hiking. If you, too, would like to enjoy impressive hikes in the golden season but don't know exactly where to go, we've got good news for you! We've listed our top autumn hiking tips for you here:
The Tiefentalalm mountain hut by the Gschwandtbach stream: This relaxed route is whimsically romantic, something straight out of a dream. It begins at the Gasthof Scheibe in the district of the same name. You cross the Pitze river and follow a winding forest path to a picturesque meadow. And if you haven't had enough hiking, you can continue up the Roßkopf mountain at 2,305 metres above sea level.
Sunrise on the Sechszeiger mountain: A mountain sunrise is always magical. It's a unique natural spectacle that gives you goosebumps. The Sechszeiger offers an ideal location to enjoy this extraordinary sight. On designated days, you can take advantage of the gondola and chairlift to bypass the trek. From the top, a brief 15-minute walk will take you to the ideal location to enjoy the sunrise.
Glacier hike on the Pitztal Glacier: Have you always wanted to hike on a mighty glacier? Join a guided glacier hike across the eternal ice, which tells its own fascinating tales.
The Pitztal mountain hut trail: Starting at the Wiese car park, this trail takes you to the mountain huts of Söllberg Alm, Mauchele Alm, Neuberg Alm, Tiefental Alm, and finally, the Arzler Alm, before ending at the Piösmes car park. A serene, picturesque hiking trail connects these five Alpine huts, all around 1,800 metres above sea level.
So, where will your next hike take you? We will gladly provide personal and customised hiking tips during your holiday. Grandpa Sepp is ready to share his wealth of mountain trails and summit tours with you.