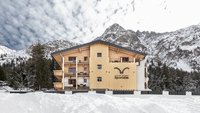 Crisp winter air and the scent of biscuits
Our favourite Christmas recipe
Larissa and Fabian love Grandma Reini's nougat biscuits. Here's Grandma's recipe so that you can enjoy this delicious Christmas treat, too!
For around 55 nougat biscuits, you'll need 270g of flour, 90g of icing sugar, 150g of butter, a pinch of salt, a pinch of cardamom, 1 egg yolk, 100g of milk chocolate glaze, and 150g of nut nougat cream.
Here's what you do:
Mix the flour with the icing sugar, salt, and cardamom in a bowl and then add the egg yolk and cubes of butter.
Knead it all together into a smooth dough and wrap it in clingfilm. Chill the dough for about an hour.
Roll out the dough on a floured surface until it's about 3mm thick and cut out small circles (about 3cm in diameter). Bake the circles in a pre-heated fan oven at about 180°C until they turn golden (approx. 10 minutes).
Melt the chocolate glaze and the nut nougat cream in a water bath. Once it has cooled, transfer the mixture into a piping bag. Stick two biscuits together using the chocolate filling, then use the rest of the nougat cream to decorate the biscuits and leave them to cool.
You can look forward to more delicious treats at our Alpine resort in Pitztal.