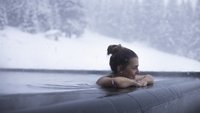 Time to put up your hooves!
The perfect wellness break
We think December is the ideal month for a wellness break. Why? Find out here.
Outside the landscape is veiled in mist and the temperatures are stuck in single digits. Nature is grey and sleepy. That's one side of December, anyway. The other is full of soothing sauna sessions, relaxing massages, and cosy evenings spent sipping hot punch or tea. And there's nowhere better to enjoy this wellness break during your Tyrolean adventure than in Pitztal. Our accommodation awaits you with a panoramic event sauna, stone pine sauna, Tyrolean sweat room, steam sauna, and amethyst healing grotto. In the family spa, you can also look forward to a sauna with a pleasant temperature where the little ones will feel all grown up. Then, you can marvel at Pitztal's festive panorama from our heated infinity pool and unwind with a cup of tea in the stone pine panoramic relaxation room or the Sky Lounge. Our Christmas tip: Give yourself and your loved ones the gift of a feel-good holiday – with a Sportalm voucher!