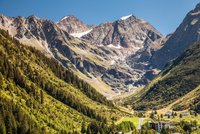 The stone pine – a gifted Alpine border-liner
The stone pine exhibition in Jerzens
It's a real power wood, an all-rounder, the queen of the conifers: the stone pine.
The stone pine grows in the Alps at a height of around 1,500 metres above sea level and comes into bloom once every six to ten years. Its wood exudes a pleasant, soothing scent, which is why stone-pine wood has been used to make beds for centuries.
In the village of Jerzens, a 25-minute drive away from our Pitztal resort, the stone pine is highly treasured. You can see this for yourself at the exhibition "The stone pine –a gifted Alpine border-liner". You'll have the chance to experience the life of the stone pine from seedling to the felling of the tree, as well as similarities to human traits. You'll also discover the beneficial uses of stone-pine wood in the areas of health, atmosphere, and well-being. The extraction of stone-pine oil from the needles, branches, and sap is a common practice. At the sawmill in Jerzens, you can produce your own stone-pine oil and discover what else is made from the wood.