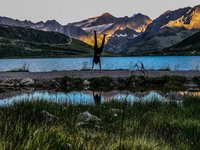 Off to Opa Sepp's power hotspot:
The Pitztal mountains
Spring is drawing nearer and we can finally swap our snowshoes for hiking boots. What's your personal spring highlight?
We've already told you how important it is to spend time out in the fresh air in spring. Our Opa Sepp feels most at home in the mountains, and we're delighted to share his spring hiking tips with you.
There are countless hiking trails around our Alpine resort in Pitztal, and as we're located in Kaunergrat nature park, if you're lucky, you'll even spot ibexes, chamois, or other wild animals. Enjoy a leisurely walk through the Taschachtal or Mittelbergtal valleys and awaken all your senses: The first birds, like blackbirds, blue tits, or robins, are welcoming spring with their joyful chirping, and woodpeckers are busy building their nests. The air is full of change. Feel the warmth of the sun on your face and listen to the powerful sound of the rivers and waterfalls in Pitztal. Now that it's growing warmer, the snow is melting in record time, filling the rivers with roaring water. Crocuses are blooming in the meadows, turning them into a white and purple carpet. All these details make spring walks in Pitztal truly special – find out for yourself!