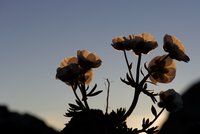 Spring is fast approaching!
And we'll tell you how best to enjoy it.
Spring is just around the corner and is waiting to pamper us all with feel-good sunshine and plenty of endorphins.
Joyful birdsong, the first flowers shyly poking their heads above the chilly ground, and the days growing noticeably longer – that can only mean one thing: Spring is coming to Pitztal! Our family hotel for your Tyrolean adventures may be located in a glacier area at some 1,400 metres above sea level, but even we can feel the first changes. Our tip: At the start of spring, spending time out in the fresh air does you a world of good. Our bodies first have to get used to getting more light and adjust to the warmer temperatures. And you can help it do that by replenishing your reserves of vitamin D and surrounding yourself with blossoming nature. How about a walk along the circular trail in the ZirbenPark in Jerzens or the Diemersteig trail in Arzl? Here in Pitztal, you have so many options available to you. Afterwards, put your feet up and unwind in our Naturpark SPA and stock up on precious energy.