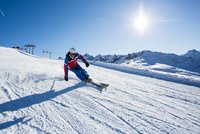 Powdery pistes at last!
Launch into the ski season!
Eager for thrilling ski escapades? Dive into our top winter tips right here.
Mark your calendars: on 23 September 2023, the Pitztal Glacier opens the ski season, which runs until 5 May 2024. That's over seven invigorating months of pristine skiing, panoramic vistas, and adrenaline-pumping adventure. From December to April, the glacier region even spoils you with natural snow. During the season, the mountain lifts run from 8:45 a.m. to 4 p.m. every day, taking you up to 3,440 metres above sea level – Tyrol's highest viewpoint and Austria's highest ski area!
Then from 15 December 2023 to 7 April 2024, the Rifflsee ski resort promises additional fun on the slopes. To optimise your ski season experience, we have four tips for you:
Get your body in shape for the slopes with simple exercises like squats, standing balance exercises, side planks, the mountain climber position, and the swimmer position to strengthen your muscles.
Get your equipment in shape: your skis should be waxed and sharpened, and your ski clothing checked for holes.
Book your skiing holiday at the Sportalm now so you can look forward to it for longer and get even more of our valuable tips.
Don't have your own ski equipment? Book your rental equipment in advance and book your ski lessons online at the Club Alpin Pitztal Ski School.
Did you know it pays to book early? That's right! Season tickets, as well as day and multi-day ski passes, are also available in the online shop of the local ski resorts, Pitztal Glacier and Rifflsee. Simply select the offer, choose the period, and save up to 30%. It's as easy as that!
Pitztal is not only a paradise for skiers. Winter hikers, ski tourers, cross-country skiers, and ice climbers will also find immense value here. At the reception, we will be happy to give you details and tips on the various activities and share our favourite routes with you.