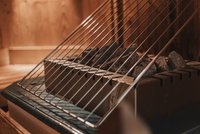 It's getting hot in here!
Our sauna area
Are you familiar with our various themed saunas?
Welcome to Naturpark SPA at our Pitztal hotel! Today, we're excited to tell you all about our sauna area:
A sauna session works real wonders for your body and mind. We especially recommend a visit to our saunas after a day full of sporting activities: The deep-reaching heat helps your muscles loosen, preventing soreness. Regular sauna sessions also strengthen the immune system and boost circulation. Plus, it's a wonderful place to relax and replenish your reserves of energy.
At 90°C, the panoramic event sauna is especially hot. And it lives up to its name: As well as various infusions with special fragrances, you can also enjoy spectacular views of the surrounding mountain scenery. In the stone-pine sauna, you'll experience the calming scent and natural properties of stone pine. Our cosy, rustic Tyrolean sweat room, the steam sauna with mild temperatures and high humidity, and the amethyst healing grotto are also waiting to be discovered.