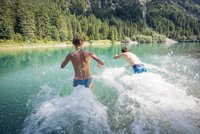 All aboard!
Cast off and head for adventure
Time for a change of scenery? Then head to Rifflsee lake!
Here, you can admire the unique mountain world of Pitztal from a whole new angle. Rifflsee lake is located at 2,232 metres above sea level, making it Austria's highest mountain lake. Rifflsee cable car, which is just a five-minute drive away from our hotel in Pitztal, lets you comfortably ascend to 2,300 metres above sea level, right by the lake. Raft rides take place here every day, which last around 45 minutes. The raft is 140m2 and offers space for groups of up to 60 people. Glide over the waters of the 27-hectare, sparkling turquoise mountain lake while enjoying a spectacular panoramic view of the awe-inspiring three-thousand-metre peaks and discover interesting facts about the history of Pitztal. Snap unique photos that you can admire during a revitalising dinner at our hotel and look back over a wonderful day. By the way, the raft doesn't require any muscle power: an electric motor provides all the power it needs.