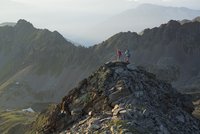 A thousand possibilities
For your next holiday in Pitztal
A holiday in Pitztal offers (almost) unlimited advantages. We're happy to introduce you to some of them.
Our guests are very special to us. That's why we decided to show them our love and gratitude by surprising them with special highlights.
Every day, the surrounding mountain railways bring you closer to heaven. Have you ever been to the Pitztal glacier, Hochimst, or Fendels?
Drive along the Kaunertal glacier road and admire the amazing view of the valley and its mountains.
Enjoy free admission to numerous museums. This may be the best option for rainy days.
Imst climbing centre, the XP adventure park, the Alpine ibex centre, and the varied activities of the weekly programme all await you.
Sustainability is important to you? Then use the bus! You can ride it for free.
You can experience all this for free with the Pitztal Summer Card, your key to a world of advantages. Larissa will hand it to you during check-in at our Alpine resort. Are you excited yet for your next stay in Pitztal?