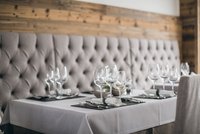 On Fridays at Sportalm …
… it's BBQ time!
Warm summer evenings, a cool beer, and juicy meat or vegetables: Barbecue time is here again at Sportalm!
What is an indispensable part of summer (as well as ice cream and plenty of sunshine, of course)? Barbecue evenings with your loved ones in the garden! Every Friday here in Pitztal, our resort gives you the opportunity to barbecue meat and vegetables with us, sample a whole host of different side dishes, and raise a toast to your holiday with a cool, refreshing drink. Our kitchen team are not only experts in transforming fresh ingredients into true culinary masterpieces, but also in how to achieve the perfect barbecue aromas – so you can't help but utter a delighted "Mmm". And our desserts will take you on an indulgent journey through the world of summer flavours, too. Afterwards, simply sit back on your lounger, watch the sun slowly disappearing behind the mountain peaks, and listen to the chirping of the crickets. Can you already feel the magic of summer transporting you back to your childhood?