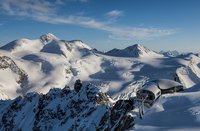 Head up high and race back down
The Bergisel ski jump
It's a sports facility, event location, and restaurant all rolled into one: the Bergisel ski jump.
Are you looking for an excursion tip in Pitztal and surroundings? Today, our recommendation is a visit to the Bergisel ski jump in Innsbruck, which was the venue for the 71st Four Hills Tournament back in January this year and offers awe-inspiring views of Innsbruck, the Nordkette mountain range, and the surrounding landscape. The Bergisel ski jump is located around an hour's drive away from Sportalm and in winter is open every day except for Tuesdays from 9 a.m. to 5 p.m. (last admission at 4.30 p.m.). Pay a visit to the Bergisel SKY restaurant with its floor-to-ceiling windows offering mind-blowing views, located directly in the ski jump tower. If you wish, you can enjoy a delicious power-boosting breakfast or simply indulge in coffee and cake in the afternoon.
The best thing to do is combine your visit to the Bergisel ski jump with a day spa at our Tyrolean hotel and round off your day of adventures with some well-deserved relaxation in our Naturpark SPA with saunas, steam baths, and much more.