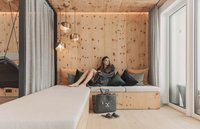 Happy Mother's Day to all the mothers out there!
Here are some great ways to say THANK YOU.
Mark your calendars: Mother's Day is on 14 May this year. Let's celebrate them properly!
Mother's Day is just around the corner. Do you already know how you will celebrate your mum this year? The classic Mother's Day gift is flowers and chocolates, but some people prefer to cook their mum a meal or take her out in nature for the day. What do you have planned? How about a super short vacation in Austria or a spa day in the Pitztal valley where your mum can put her feet up and relax? Make it a getaway for just you and your mum, or invite the rest of the gang for a day of pure relaxation. Of course, you can also order your mum a voucher for a wide variety of services in our resort, which she can redeem whenever she wants. Select anything from a value voucher for a wellness treatment to a three-night stay, including ¾ pampering board – just add the recipient's name and address, and you will have a gift that is sure to bring a smile to your mum's face. Saying thank you has never been easier, don't you think?