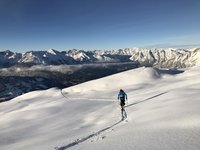 Seppi's power hotspot
The Pitztal slopes
A place where you simply feel good: That's a power hotspot. Where's yours?
Have you found your personal power hotspot in Austria yet? The place where you can take a deep breath and shake off the stress of everyday life. The place where you become one with nature – and with yourself. A power hotspot can have different shapes and forms. It doesn't have to be a specific place. For some people, it's just an activity or even a person.
Today, we want to introduce you to Seppi's power hotspot: the Pitztal slopes. This real outdoorsman and mountain lover adores hitting the slopes at high speed. When the fresh air blows in his face, he feels happy.
As a qualified ski instructor, he loves to share his passion with our guests. During ski tours and winter hikes, he always knows the best route. Find out for yourself! Who knows, maybe you'll also get the same feeling of happiness when skiing on the pristine snow and walking through snow-covered forests during your vacation in Austria.