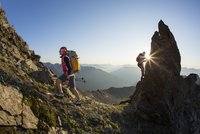 Larissa's place of power:
Activities in the Pitztal mountains
Are you familiar with that burning desire to get out of the house and head outdoors?
Larissa often has this strong desire to spend time outdoors. She is the sporty firecracker of the family and loves to be out and about in the awe-inspiring Pitztal mountains in Austria. In fact, the Pitztal mountains are her place of power. And Larissa never gets bored because the region offers so many active possibilities: hiking, biking, skiing, ski touring, golfing... even unicycling! If you ask her which activity is her favourite, she'll say all of them!
When she's out in nature, she feels at peace and in the moment. Whether she's walking along remote paths in summer, biking on perfect trails, or riding through the village on her unicycle, she is fully immersed in the experience. We want our guests to experience that same feeling, and Larissa is happy to share her tips and tricks on the best routes – and even how to balance on a unicycle for those who are interested.
Are you ready for your vacation in Austria? Book your stay and look forward to exploring the natural beauty of Pitztal!