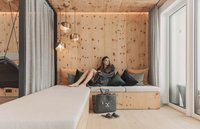 When April gives you showers …
… there's indoor fun to be had!
They say that the weather in April is changeable and unpredictable.
We have various leisure ideas ready and waiting for you on your holiday here at our Hotel Sportalm. When the weather's good, of course you can head out into the fresh air to explore the mountains. In springtime, there's so much to experience and discover on foot or by bike.
And when the weather's not so good, we have the following great tips for you:
A chill-out day in our Naturpark SPA with feel-good fun in the pool and saunas
A relaxing arnica massage or a nourishing Cleopatra wrap
A power workout in our fitness park
A shopping day at "Kaufhaus der Berge" in Arzl
A tour of the Arzl-Ried grain mill
A visit to the stone-pine exhibition in Jerzens
A visit to the Kaunergrat Nature Park House
A tour of the Tyrol Alpine ibex centre
Of course, there's much more to experience around Sportalm. Just ask Opa Sepp or Oma Reini, they're full of great excursion ideas. Have fun planning your trip!