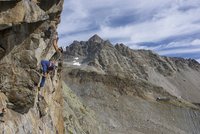 The world from above
We hope you're not afraid of heights!
Pitztal awaits you with some fantastic climbing routes. Find out more!
Mountains as far as the eye can see … that's what every climber hopes to find during their summer holiday. If you're exactly this kind of tourist, then the Pitztal valley is your happy place. Here, climbing enthusiast ascent some of the most beautiful mountains and admire the world from above. Our favourite climbing routes?
Steinwand: You can choose between two different routes to reach the top. Both offer an incredible hiking experience, even for beginners!
Gletscherpark: Four different routes on will lead you into the fascinating world of the Pitztal glacier.
Stillebach/Richi's Wall: a paradise for experienced climbers. Here you can try out different difficulty levels, from three to six, and climb up the rockface like a graceful and agile ibex.
Look forward to some unforgettable days in Austria's unspoilt nature and test your strength and fitness in our beautiful mountains. Our Alpine hotel in Pitztal is awaiting you.