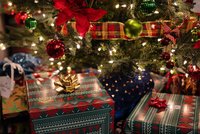 Hand in your wish list personally
At the "Christkindl Post Office"
The "Christkindl Post Office" is awaiting you and your children with a cheerful programme at 3,440 metres above sea level.
Christmas time is one of the most magical times of the year, especially for children. For our little ones, the world is full of magic and fascinating creatures like the Easter Bunny, the Tooth Fairy, or Santa Claus (or the "Christkindl" in Austria).
On the four Advent Sundays, you – and your children, of course – can come a little closer to the "Christkindl". At Austria's highest café, Café 3440, a cheerful programme awaits you from 11 a.m. to 3 p.m. with treats, musical entertainment, and activities, such as colouring and handicrafts. Have you already written your wish list? Then you'll have the chance to give your list personally to one of the angels of the "Christkindl". The "Christkindl Post Office" will then send your letter full of hope to the secret address. The chances of your wishes coming true are pretty high, don't you think?
You still haven't decided what to write on your wish list? How about a stay at our hotel in Tyrol?