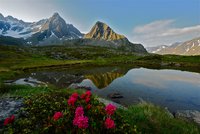 Up the mountain …
… and then into Rifflsee lake!
Summer in the mountains is uniquely beautiful. Let us give you our exclusive leisure tips for your summer holiday!
In summer, we think there's nothing better than enjoying the cool breeze in the mountains. And that's exactly what you can look forward to when you come to Pitztal for your Tyrolean adventures! Our accommodation is the perfect starting point for plenty of hikes, bike tours, and mountain exploration. Why not take a walk to Braunschweiger hut, for example, or a summit tour up Mittagskogel? And Opa Sepp will be happy to give you even more hiking tips! After a long, enjoyable tour in the mountains of Pitztal, we recommend diving into Rifflsee lake. At 2,233 metres above sea level, it's the highest mountain lake in Tyrol and always stays refreshingly cool! Its shimmering blue-green waters are sure to make you fall under their spell. Our exclusive tip: take a raft ride! Enjoy the unique panorama while being transported on a 140m² raft on Rifflsee lake and learning fascinating facts about Pitztal.