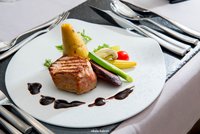 Exquisite delights at the Sportalm
Unleashing the flavours of Tyrolean cuisine
Calling all food enthusiasts! Embark on a delectable journey through the robust and flavourful Tyrolean cuisine during your stay in Tyrol.
At our Tyrolean hotel in Pitztal, you can immerse yourself in a gastronomic paradise. We serve rustic and traditional delicacies from Tyrol, in addition to mouth-watering international creations. These culinary delights are the perfect way to restore your energy after a day of hiking in the majestic mountains. But what are the iconic dishes that define Tyrolean cuisine?
Undoubtedly, a timeless classic is Tyrolean Gröstl, a tantalising blend of regional ingredients such as boiled potatoes, crispy speck, and golden-brown onions. But vegetarians need not worry, as Tyrol also offers a variety of hearty meat-free options, including spinach bread dumplings, cheese spaetzle, and Schlutzkrapfen, a ravioli-like pasta.
Tyrolean cuisine also boasts a wide array of delectable desserts. Indulge in the beloved Tyrolean apple strudel, filled with juicy apples, plump sultanas, and a hint of cinnamon. Another irresistible treat is the famous Kaiserschmarrn, a fluffy, torn pancake accompanied by sultanas and served with stewed plums or apple sauce.
Whether you crave savoury dishes or have a sweet tooth, Tyrolean cuisine caters to every palate, promising a truly exceptional culinary experience.