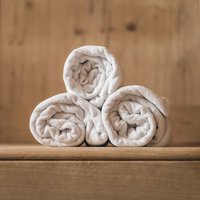 Arnica, herbal pouches, or marmot oil?
Our revitalising massages
After a high-power mountain tour, there's nothing better than indulging in a dose of regeneration and recharging your batteries with a massage.
Do you know that satisfying feeling of returning home after a hike or bike tour, unwinding, and letting your tired muscles relax? This exact feeling awaits you at Sportalm, your hotel in Pitztal. Here are our top massage tips:
Arnica massage: Particularly effective against muscle and joint tension, dermatitis, and insect bites. Arnica has an anti-inflammatory and disinfectant effect.
Herbal pouch massage: Heat is used to massage natural oils deep into the skin, leading to total relaxation.
Marmot oil massage: Effective against joint tension and symptoms of rheumatism, as the marmot oil contains high levels of cortisone.
Stone pine vitality massage: Activates self-healing, as the warm vital stone pine branches boost your alpha waves, putting you in a meditative state.
So, which massage will you treat yourself to on your next Sportalm holiday? You'll also find plenty of other wraps and treatments here.