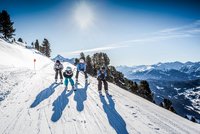 Enjoying every inch of snow …
… on the best slopes in Tyrol.
Ready, set, go! Pitztal awaits you with lots of fun and action. Don't miss out!
Are you already dreaming of your next winter holidays? When staying at our hotel in Tyrol, not only can you enjoy all our inclusive services, but you also have access to all ski resorts in the area. Here, from September to May, 97 kilometres of perfectly prepared slopes await you, as well as unlimited fun on the snow for your whole family.
We're going to reveal an exclusive insider tip for a better start to the winter season. The seasonal, day, and multi-day tickets for the Pitztal Glacier and Rifflsee ski resorts are now available in the respective online shops! Book now and you'll get up to 30% off. Get your ticket and look forward to unforgettable winter days. Thanks to a wide range of activities, you'll certainly never get bored. Enjoy skiing on some of the highest mountains in Austria, check your speed, and experience pure freedom while freeriding.
Hotel Sportalm is your place to be in winter.