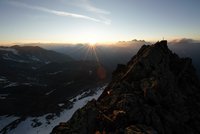 High -altitude coffee
On top of the world
Unique. Extraordinary. Indescribable. You've probably never seen something like this before.
Are you a mountain lover but at the same time you appreciate a warm cup of coffee in a lovely bar? Why not have both? Let us introduce you to an incredible power hotspot, Café 3440. It's situated in the futuristic mountain station of Wildspitz lift, at 3,400m above sea level. Fun fact: the highest peak in Tyrol, the Wildspitze, is only 300 metres higher. Despite its position, the café can be reached easily, quickly, and barrier-free thanks to a modern lift, whose valley station is close to our hotel. Come and sip a delicious coffee with a unique view of the surrounding mountains, 50 of which are over 3,000m high. If you're looking for something impressive, check out the suspended and glass-fronted terrace. Here, you'll feel like you're flying over the Austrian landscape. On every Saturday in winter, you can enjoy a rich breakfast with local specialities and fine coffee while admiring the panorama.
Visit Pitztal. Hotel Sportalm awaits you!