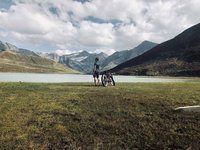 Ibexes, chamois, and friends
The Big Five in Kaunergrat Nature Park
Want to enjoy unique encounters with the Big Five of the Alps? Check out our tips for your Alpine safari.
By now, we're sure you've met our power animal, the ibex. How would you like to stalk the king of the Alps and watch him from up close? And while you're at it, how about also encountering chamois, bearded vultures, golden eagles, and marmots? Think this is a wild idea that could never come true? Think again! We'll let you in on our secret tips for catching a glimpse of the Big Five on your next hike.
Around 1,200 ibexes live in Kaunergrat Nature Park. They particularly like to spend time near the Rüsselsheimer hut at 2,323 metres above sea level. From our Hotel Sportalm, the ascent takes around two hours. Make sure you take binoculars and your camera with you – you'll be amazed by the elegance of the ibexes! You'll come face to face with marmots quite regularly in the nature park from an altitude of 900 metres, and the high mountains are the perfect place to spot chamois. If you're lucky, you might even spy the king of the skies, the majestic eagle. The bearded vulture, on the other hand – the Alps' largest bird of prey –can usually be seen in Lechtal.